AIM-FOR
Master your mindset, grow your game
OUR PLATFORMS
Delivering the developmental programme
E-LEARNING
Develop the ultimate mindset, learn a psychological method that will help you supercharge your performances by completing our interactive and engaging online course.
AIM-FOR APP
For the performer, plan for success, monitor your development, and learn how to supercharge your performances and achieve consistency.
HUB
Get a better understanding of your players state of mind. Measure and monitor your players' progress from the web hub guiding players and coaches to success.

SAFETY NET
Support your players with a platform providing mental health literacy information and resources as well as well-being support and advice.
Online education
E-Learning Courses
Learn the skills you need to become a pro, master your mind and grow your game to thrive in your career.
140,000
MINUTES COMPLETED
96%
COURSE Satisfaction RATE
The AIM-FOR APP
Learn the strategies and skills you as a performer need, to be more consistent in your game and play better, more often.
The 4 Pillars Platform
The AIM-FOR HUB for the Club
If you can't measure it you can't improve it? Measure the psycho-social performance and well-being of your players?

Mental HEalth Support
THE SAFETY NET
Over 50% of people with a mental health issue will not come forward. Support your players with resources for them to identify, manage, and address mental health issues and challenges.
CLIENTS
Some of the people we work with
What do our clients think?
"The Aim-For e-learning course provides all young footballers with an enjoyable way to get a better psychological understanding of their performance in football, as well as how to deal with the rewards and the setbacks."
GB PFA
"I like how there was a lot of information in such a short lesson, but I did not feel overwhelmed by the information.
"
AM Under 18 Cricket
"The Hub gives me a view of the mentality of my club and the coaches a view of where all the players are at. The players benefit by being able to become more self aware and be constantly refining the necessary skills for success"
DOC
"Our PFA Safety Net provides players of all ages in professional football club academies with excellent resources helping them understand and deal with mental health and well-being challenges and other relevant issues."
GB PFA
Great Prime day offer
33% OFF - until 22nd June!
Get the ultimate mindset and be ready for the new season...
- Use promo code
PRIMEDAY2021
Available for the Football mindset course and the Cricket mindset course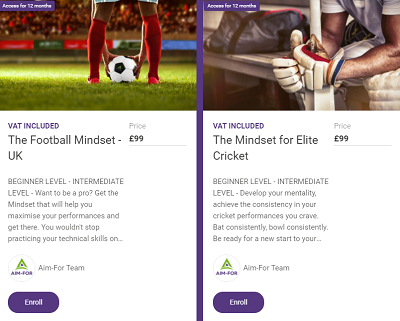 Designed and built for Pro's
Adopted by the PFA for all the new professionals in the UK