AIM-FOR
Developing mindsets, improving performance.

Are you a Parent or Player?
|
Are you a coach?
|
or a Head Coach?
|
or
|
are you a practicing or aspiring sport psychologist?
OUR PLATFORMS
Delivering development
E-LEARNING
Develop the ultimate mindset, complete our interactive and engaging online course to learn a psychological methodology that will help you supercharge your performances.
AIM-FOR APP
For the performer, plan for your next successful performance, monitor your development, and learn how to supercharge your performances and achieve consistency.
HUB
Get a better understanding of your players by developing the mindsets of the individuals. Measure and monitor your players' progress guide players and coaches to success.

SAFETY NET
Support all your club especially your players and coaches with a platform providing mental health literacy information and resources as well as well-being support and advice.
Online education
E-Learning Courses
Learn the skills you need to become a pro, master your mind and grow your game to thrive in your career. Team discounts available please ask.
George Bowyer PFA - "The Aim-For e-learning course provides all young footballers with an enjoyable way to get a better psychological understanding of their performance in football, as well as how to deal with the rewards and the setbacks."
160,000
MINUTES COMPLETED
98%
COURSE Satisfaction RATE
The AIM-FOR APP
Learn the strategies and skills you as a performer need, to be more consistent in your game and play better, more often.
The 4 Pillars Platform
The AIM-FOR HUB for the Club
If you can't measure it you can't improve it? Measure the psycho-social performance and well-being of your players and teams?

DOC - "The Hub gives me a view of the mentality of my club and the coaches a view of where all the players are at. The players benefit by being able to become more selfaware and be constantly refining the necessary skills for success"
Mental HEalth Support
THE SAFETY NET Mental Health Platform
Over 50% of people with a mental health issue will not come forward. Support yourself and/or players with resources for to identify, manage, and address mental health issues and challenges.
GB PFA - "Our PFA Safety Net provides players of all ages in professional football club academies with excellent resources helping them understand and deal with mental health and well-being challenges and other relevant issues."
CLIENTS
Some of the people we work with
Great Prime day offer
33% OFF - until 01 December!
Get the ultimate mindset and change up for the rest of the season...
- Use promo code
PRIMEDAY2021
Available for the Football, Cricket and Coaching mindset courses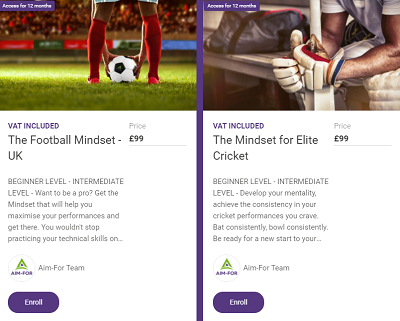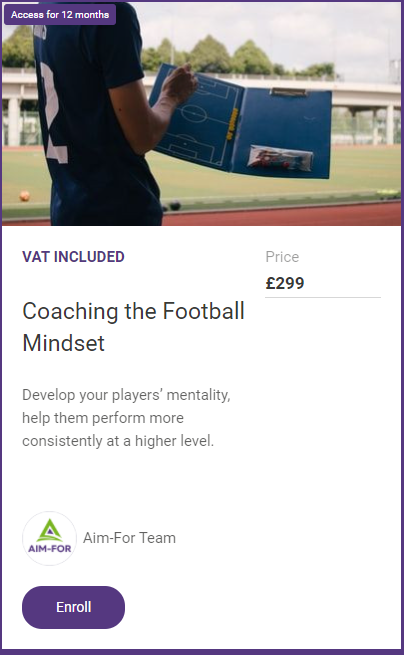 Get Safety Net News!
Leave your email address and we will let you know when the you can gain access to the Safety Net.